25 years on from Blackburn's greatest day, a Premier League title from another time
Twenty five years ago today Kenny Dalglish leapt, Jack Walker wept and Blackburn Rovers won a Premier League title like no other before or since.
Rovers' win, via a 2-1 defeat at Anfield, capped a four-year journey for a forgotten league-founding football club and a lifelong dream for one local boy done good.
When Walker sold his family steel business for more than £300m and set about remaking his boyhood club from the ground up, most would've settled for anything that amounted to better than 19th in what was then England's second division. "Uncle Jack" was anything but most people though. He wasn't about to settle for anything, he wanted to win the whole thing.
Download the new Independent Premium app
Sharing the full story, not just the headlines
He decided that coaxing Dalglish out of retirement was the best way to do it and while his hefty chequebook was clearly handy in persuading him back on to the touchline, it was Walker's vision for Rovers that sealed the deal. A legend at Liverpool in the years previous, the old man's ambition to topple Manchester United as England's top dogs was more than enough.
Promotion back to the big time followed before a fourth-placed finish in the Premier League at the first attempt. Such a meteoric rise didn't come cheap of course. The British transfer record was broken twice, first for Alan Shearer from Southampton and then Chris Sutton from Norwich. Tim Flowers' arrival was also a record outlay for a goalkeeper.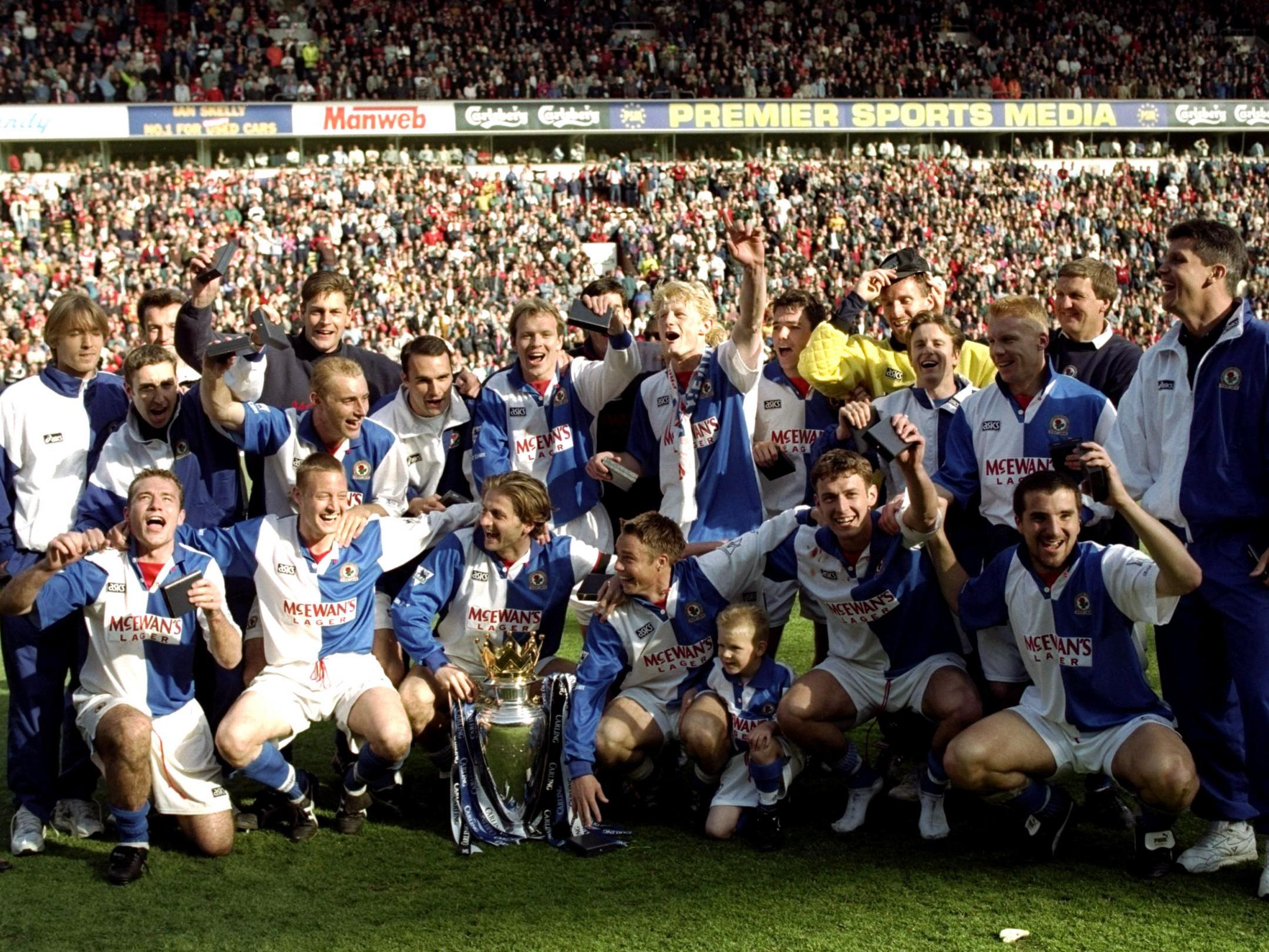 But with the splashes came shrewdness too. Mainstay defenders Colin Hendry and Graeme Le Saux joined for £700,000 each while captain Tim Sherwood came in for just £400,000. The talismanic Mark Atkins was signed for a mere £45,000. Carlton Palmer cost Leeds more than Rovers expended on their entire midfield. Money was spent, yes, but this run to the title was to be about more than just pounds and pence.
Fourth showed their rivals that the nouveau riche from east Lancs should be taken seriously, but it was the second place, again behind United, that would come a year later that proved most decisive and most inspirational for the team Walker and Dalglish had built. Sherwood recalls how he and his team didn't have the belief to win a league title a year earlier but coming so close in 1994 gave them all they needed. In their minds not only would Rovers beat United next time around, they would "roll everyone else over" too.
And so it proved. Despite Nottingham Forest, Liverpool and Newcastle all topping the early league table this was only ever going to be about two teams. This was a two-horse title race and the differences between them could hardly have been starker.
With the advent of the Premier League in 1992, United rose with it as English football's new force. Under Sir Alex Ferguson's near faultless guidance they saw off all-comers with the best playing squad in the country on the pitch and the best that money could buy off it. They had won three trophies the previous season. Rovers had one in the previous 67 years.
For all of their new riches, Blackburn didn't have any such luxuries. For much of their rise through the pyramid, training wasn't conducted on a training ground at all but at a local public park. Assistant manager Tony Parkes was regularly deployed to comb the pitch for all manner of dangers. Dog poo wasn't the only distraction either with sessions stopped daily for a funeral procession to the cemetery down the road. Carrington this was not.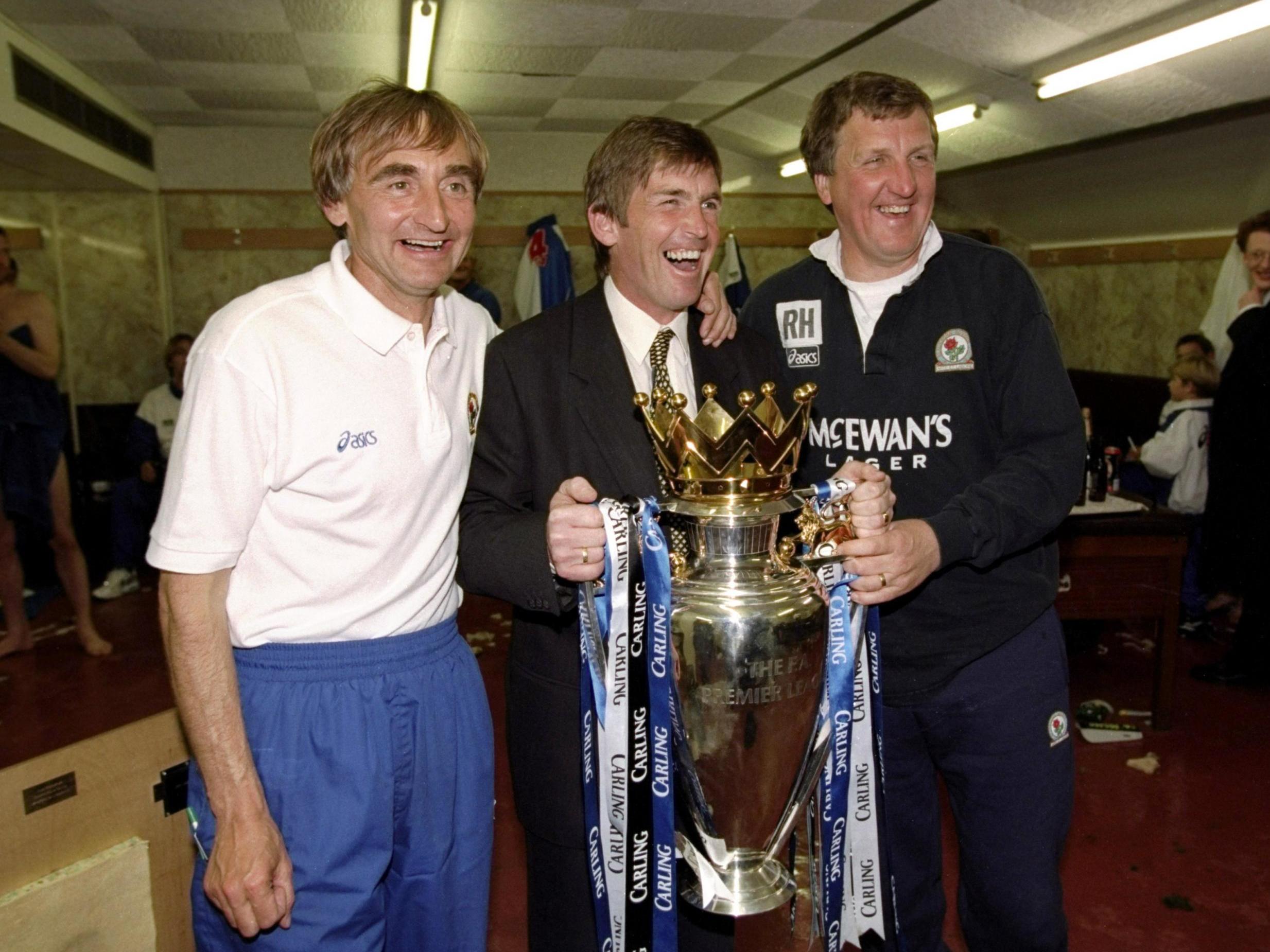 Humble beginnings served Rovers well though. "We absolutely psychologically destroyed opponents before we even played," Le Saux says in Jonathan Clegg and Joshua Robinson's The Club. For Dalglish it was never the facilities that mattered, but who was in them. Ewood Park was just "two armchairs and a sofa" behind the scenes back then but Blackburn made it a fortress all the same.
Fired on by the goals of SAS duo Shearer and Sutton, who would go on to score 49 between them, Rovers surged 12 points clear at one stage. This was Blackburn's title to lose. Until they started losing it.
Dropped points against Leeds, Manchester City and West Ham saw Rovers fall towards the finishing line. United, for their part, were relentless. Shorn of Eric Cantona, suspended after his infamous kung-fu kick at Selhurst Park in the preceding January, they continued on unabated, winning four of their last six as Rovers stumbled. "They were the last team you wanted chasing you," Sherwood remembers, almost as vividly as the sleepless nights and worries of what might be.
The narrowest of wins over Newcastle at Ewood, via Shearer of course, gave Rovers one hand on the title only for Denis Irwin to keep the race alive two days later against Southampton. It would all come down to the final day, and Anfield and Upton Park.
When Shearer slammed home the opener an uncharacteristically jittery Dalglish, watching on from the touchline, was calmed. When John Barnes hit a second-half equaliser he was not. By the time Jamie Redknapp curled home a free-kick with virtually the last kick of the game he was anything but. The title dream was in tatters.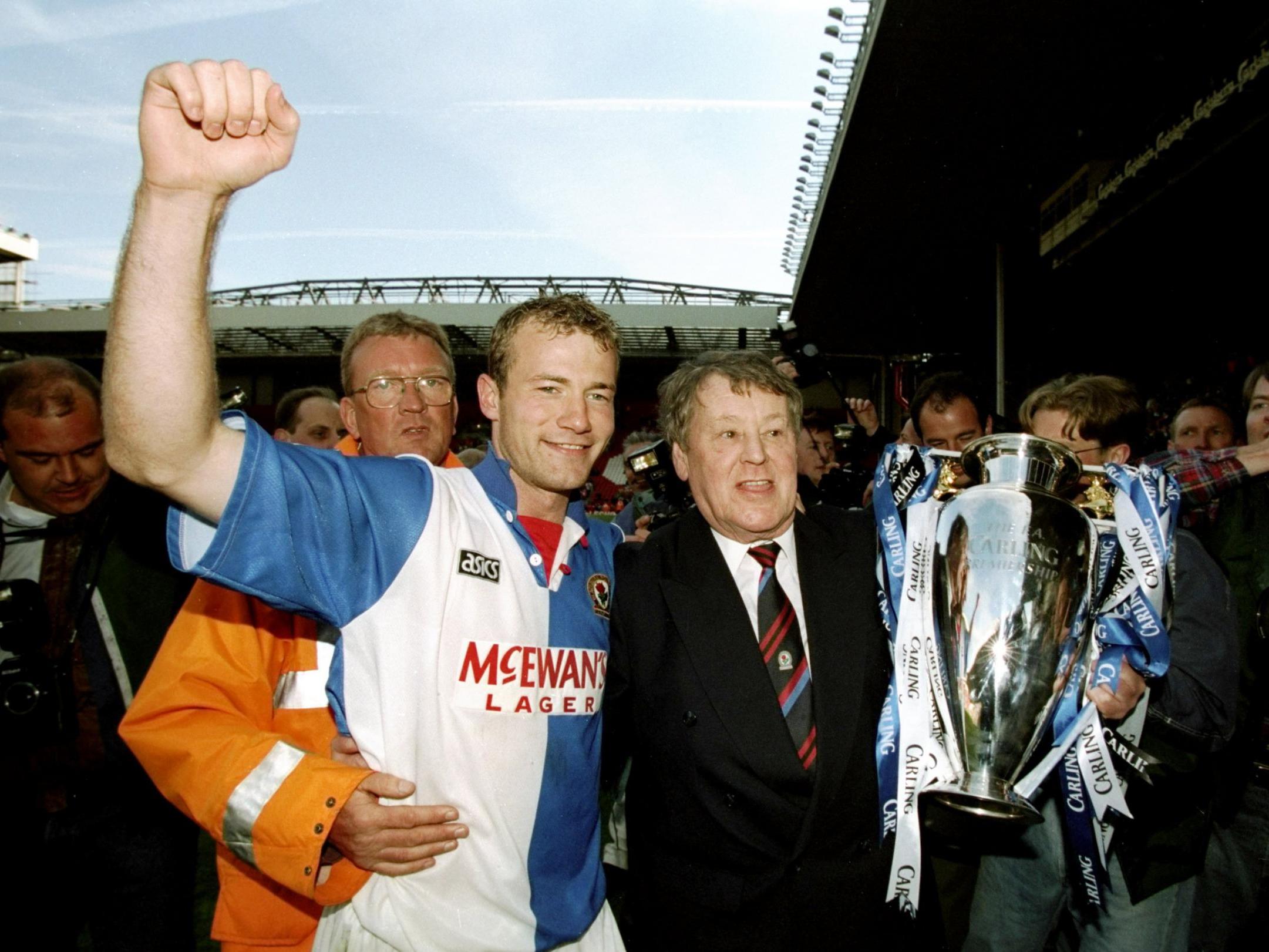 Sherwood says if that was to be it, it would live with Rovers players to this day. They would never have got so close again such was the mental "damage" of such a collapse. But when the conversations behind Dalglish in the technical area turned to hugs it dawned on those on the pitch that the impossible had indeed become reality. West Ham had denied United, a 1-1 draw all they could manage against an inspired Ludek Miklosko in the Hammers goal and Rovers were champions by a point. Andy Gray was one of the first to see it from the Sky TV gantry. "Blackburn have won it," he jumped in. "Blackburn have won it."
"We played a minute of the game knowing we'd won the Premier League", says Sherwood. And then came the celebrations, although such was Dalglish's focus the club hadn't even planned a venue. The regular run-of-the-mill post-match restaurant back in Blackburn would have to do. Not that it mattered a jot to the Scot or the man who had talked him back four years earlier.
Walker wept as he watched what he had always dreamed of come true. It, of course, would never get that good again. Rovers fell through the divisions, Walker would pass away aged 71 in 2000 and the club he loved would be left with only memories of what it once was.
There have been more fantastical fairytales since and certainly more celebrated champions in the years following that famous afternoon in 1995. But for the supporters who have been through so much before and since, the memories of that day and that team will never fade. Dalglish's "people's champions" live on. As does Uncle Jack's legacy.
Source: Read Full Article