Lille's Victor Osimhen on his rise from a Lagos landfill, rejecting Arsenal and interest from the Premier League
It was a suffocatingly warm afternoon in Lagos and the stench of the Olusosun landfill smothered the nearby village. The largest dump in all of Africa, each day hundreds of locals sift through the skyscrapers of refuse searching for anything of value. It's a means of livelihood in the heart of Nigeria's capital, each resident scouring for their own individual needle in the rotting haystack. For Victor Osimhen, the prize was a football boot.
"I'd go to the dumpsite with my friend to look for them," the Lille forward tells The Independent. "We'd see Nike left and Adidas right and try to combine everything together. I lived in a really poor neighbourhood and in our street, my family is one of the poorest. Sometimes the landlord would come to harass my dad and sisters for rent and I'd go around the corner to cry and pray to God to help me.
"If I wasn't playing football, I'd be selling stuff to help my family. After I lost my mum [aged six], my dad lost his job and me and my siblings would sell sachets of water to those working at the dumpsite in the sun. It was really hard, but everything is in the past now. I'm happy I went through that phase of life because it helped me live up to my dreams."
Download the new Independent Premium app
Sharing the full story, not just the headlines
Those dreams have taken Osimhen from barely imaginable poverty to an U17 World Cup trophy, from evenings spent counting coins in a cramped kitchen with his sisters to a new life in Europe and the glittering riches of the Champions League. At 21 years old, he is one of football's brightest talents, scoring 18 goals already this season at Lille, with a value now soaring into the tens of millions.
"My family are okay now. That's the most important thing," he adds. "But I still have a lot more dreams for my career."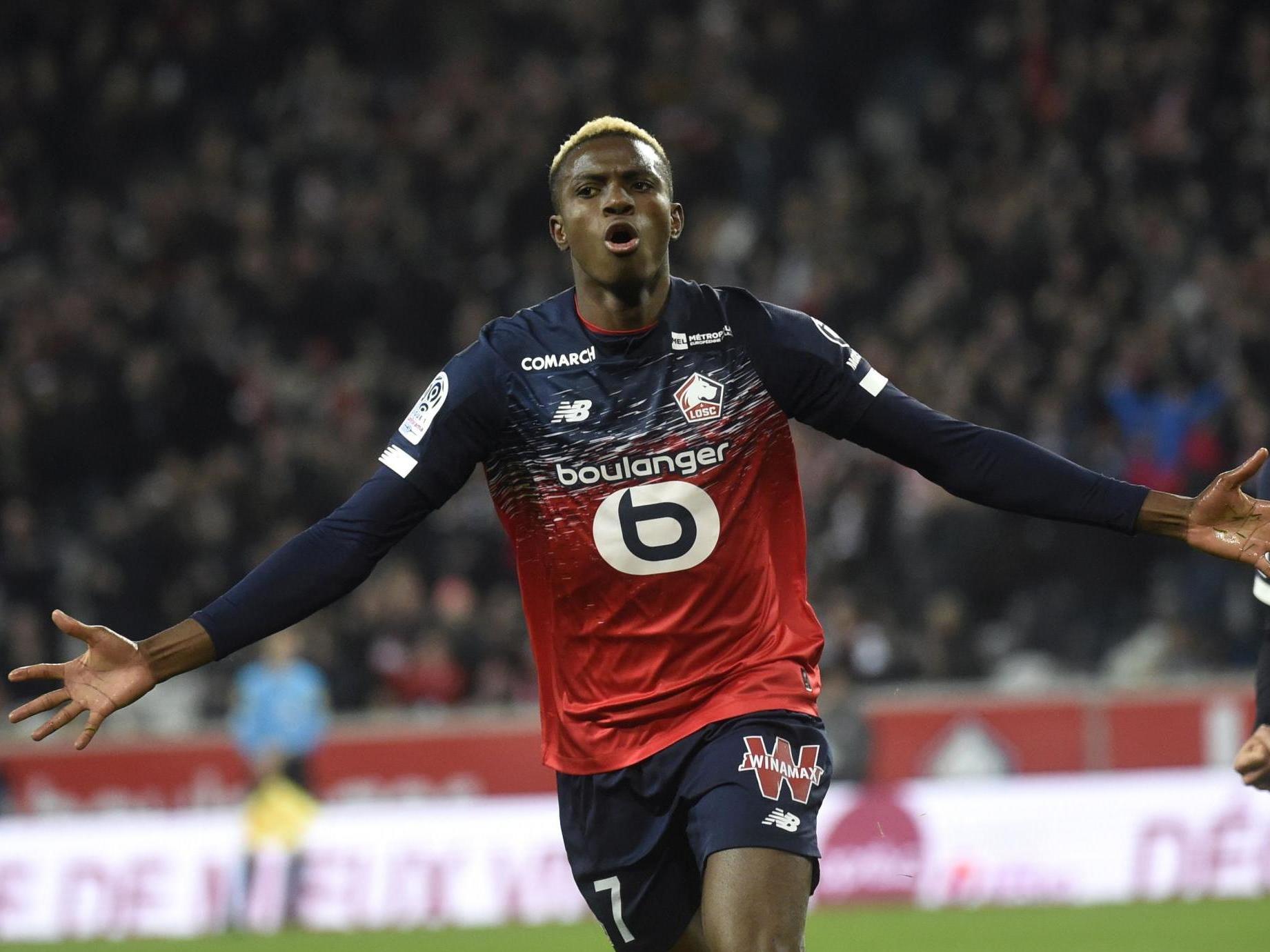 Speculation around Osimhen's future has snowballed rapidly, with several top Premier League clubs linked with the striker on a weekly basis. "Of course, one day I'd like to play for a big club in England," he says of the interest. "I've spoken to Odion [Ighalo] about it. He gave me very good advice, he's a legend and a big brother. My goal is to play at one of the biggest clubs in the world but now I'm very happy in Lille. My priority is to play a lot of games. Signing for a big club and being on the bench is not exciting for me."
Osimhen is also determined that whispers over the future don't drown out his past. Nor is the interest of Europe's biggest clubs a new phenomenon. After winning the golden boot at the U17 World Cup – owing to a prolific connection with close friend and Villarreal winger Samuel Chukwueze – Osimhen regained control of his own destiny, able to escape a life in poverty for virtually any team of his choosing.
"I spoke with Arsene Wenger after the tournament ended and he wanted me to come to Arsenal," he says. "I had a lot of options. Barcelona; Inter Milan; Atletico Madrid; Juventus and the rest."
Instead, Osimhen chose Germany's distinctly less glamorous region of Lower Saxony. "Arsenal was a good option but it wasn't the best at the time," he continues. "I wanted to start playing as soon as I turned 18. I wanted to go to a place where I had time to invest in my game and improve physically. Wolfsburg showed me that possibility."
The culture shock was strange and intimidating. Soon after arriving, a torn meniscus forced Osimhen to undergo three surgeries, a shoulder injury required another operation, and it wasn't until four months later that he made his debut. "It was really tough when I first came," he says. "After a few months, my dad and elder brother returned to Nigeria. I'd come back from training and there'd be nobody home. It was lonely. The food, the language, I had to adjust everything in my life."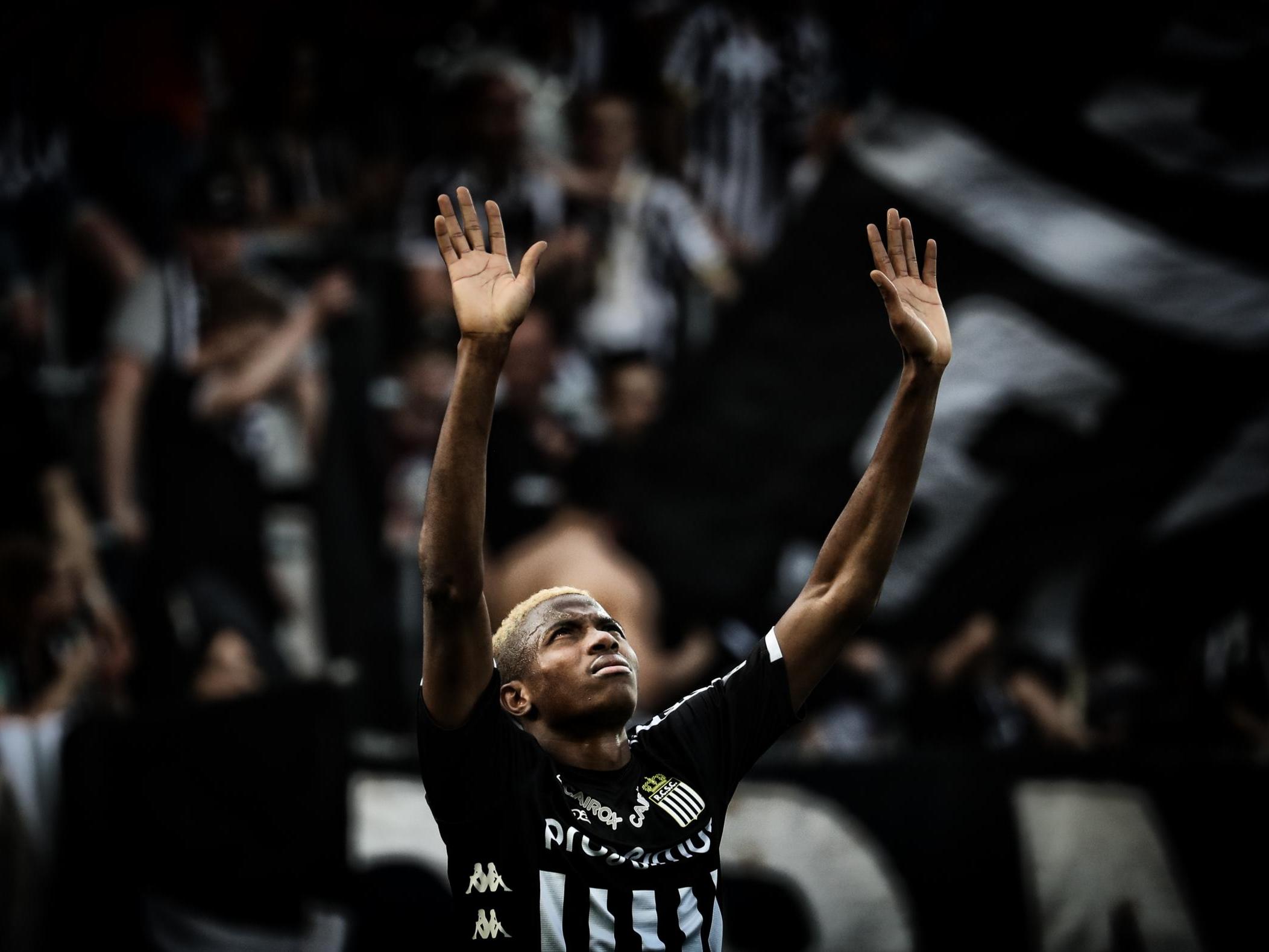 The following season, he played little over five hours of football, struggled physically and failed to score as the bubble of hype around him was pierced by doubt. When he returned to Nigeria in the summer, stewing over the uncertainty around his future, Osimhen was stricken by malaria and forced to spend a month in recovery, ruling him out of pre-season. "When I tried to come back to Wolfsburg I was quarantined for two weeks in Germany," he says. "I spoke to the club and I knew the coach was giving me a sign that I wasn't needed anymore. I asked to go on loan, even if it was to a club in division three or four. I just wanted to play football, I knew I had the talent and quality.
"I went to Belgium to Zulte [Waregem] with my agent Jean Gerard [Benoit Czajka] for a medical and I was rejected. I went to [Club] Brugge and I was rejected," he says, both clubs citing a frailer physique that had been drained by the disease. "Finally, Charleroi picked me up, which really started my actual football career."
After 18 months in the doldrums, Osimhen took to the Belgian league like a whirlwind, blistering through tired defences, ending his drought with 20 goals in his first unpunctuated season as a professional. "It was really important to kickstart my career quickly because I had to prove a lot of people wrong," he says. "I'm very happy I've done that. Kudos to Charleroi. I'm very grateful for everything that club has done for me."
His sparkling form caught the eye of Lille's Luis Campos, a technical director renowned for spotting and refining rough diamonds, leading to Osimhen's short and seamless skip across the Belgian border. "I think for me it's all about confidence," he says. "The quality of players at Lille helped me settle in well and now I know that I can survive at any club, and be 100 per cent confident that I will shine. To play [and score] against the likes of Chelsea in the Champions League is a dream come true. We used to watch Didier Drogba all the time [back home], he is my idol. When I was at Stamford Bridge, I called all my friends on FaceTime and just said 'Wow, look, I'm here'.
"Without football I don't know where I'd be. It's my life. I'm on this Earth to play football. I still have a lot of ambitions and objectives to achieve and I'm not there yet. But when I think of how far I've come, I'm really proud of myself."
Source: Read Full Article