Luuk De Jong strikes late as Sevilla knock out wasteful Manchester United in Europa League semi-final
This Europa League trip to Cologne was supposed to be a low-stakes affair for Manchester United, with the prize of Champions League qualification secured weeks ago, but the sight of their heads hung low at the final whistle and their tired bodies dragging themselves off the pitch, you could tell this late semi-final defeat to Sevilla will devastate them.
A captivating contest at the RheinEnergieStadion could easily have ended with Ole Gunnar Solskjaer's side in Friday's showpiece at this same venue, against either Internazionale or Shakhtar Donetsk, yet Luuk de Jong's tap-in with 12 minutes remaining sent this competition's most successful club to yet another final.
United had opportunities. Plenty, in fact. Many came at the frantic start of the second half but, like in last week's quarter-final against Copenhagen, an inspired goalkeeping display denied them. The curiously-named Yassine Bono ensured that Solskjaer's side would not find what they were looking for. Yet they were also the architects of their own downfall.
Download the new Independent Premium app
Sharing the full story, not just the headlines
There will be questions about the defence, badly carved open for De Jong's goal as well as Suso's equaliser before it. Solskjaer's decision to use his first substitutes in the 87th minute is also deserving of scrutiny. And once again, his players only could find the net from the penalty spot. Bruno Fernandes' ninth-minute penalty appeared to give United a valuable foothold but it came too soon to last.
This is still a season of progress, albeit one with concerns that should be addressed in the few weeks before the September restart. Solskjaer has turned what could have been a calamitous campaign into something worth remembering – both by finishing in the Premier League's top four and the run through this tournament – but its final chapter is painful one.five things
Much was made of Sevilla's pedigree as five-time winners but Ever Banega was the only survivor of their most recent triumph in 2016 in the starting line-up. Their 19-game unbeaten run dating back to February – the longest streak of its kind in the club's 130-year history – was far more relevant and Solskjaer was right to describe them in his pre-match interviews as United's toughest opponents since lockdown.
That made the early goal all the more important. Yet again, it was Bruno Fernandes from the penalty spot – his eighth from eight since arriving in January and United's 22nd spot-kick of the season – and the offending Sevilla centre-half could have little complaint. It is not often that you see a penalty given after the player being fouled has successfully got a shot away but Diego Carlos' late swipe at Marcus Rashford's left shin was as clear as they come.
After remaining grounded for the decisive kick against Copenhagen last Monday, Fernandes went back to his trademark 'hop' run-up – leaping a little higher than usual – and emphatically found the top left-hand corner. United had an early, unlikely lead but their opponents have previous for staging comebacks in the latter rounds of this competition and responded brilliantly, moving through United's half with more menace.
"Calm it down" and "let's keep our heads" was the refrain from the United bench in those uneasy moments and the language became considerably stronger once Sevilla equalised. Solskjaer felt the ball had taken a touch from Jules Koundé before the Sevilla throw-in which led to the goal but the officials were not listening. Even if Solskjaer had a case, he may have been better off pointing the finger at three members of his back four.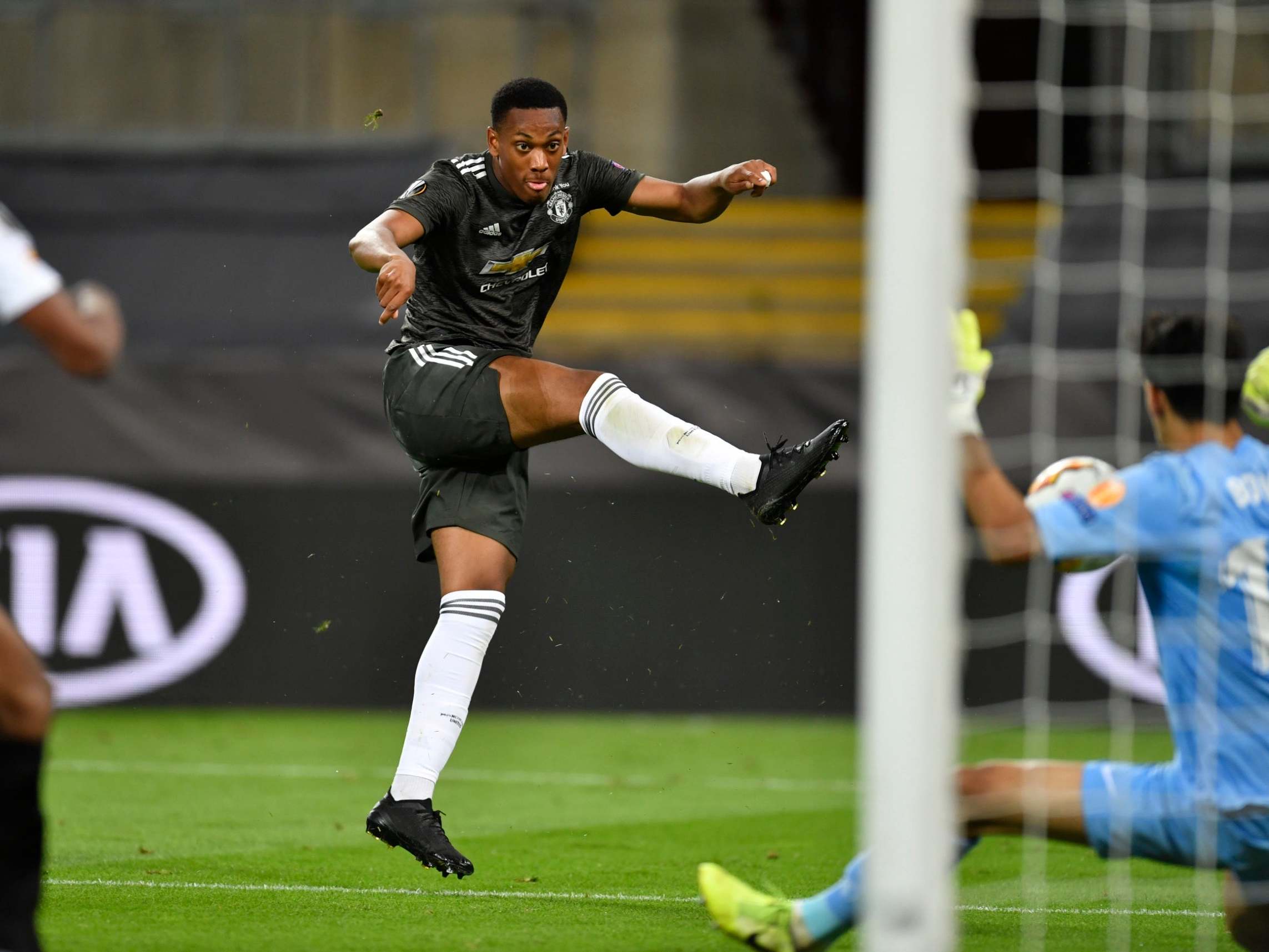 First, Victor Lindelof let Lucas Ocampos play a pass inside too easily for the marauding, electric Sergio Reguilon. The on-loan Real Madrid left back had by that point already evaded Aaron Wan-Bissaka, whose attempt to cover the run could be generously described as leisurely. And Reguilon's low cross to the far post then found Suso, who turned inside the ball inside the upright after effortlessly escaping Brandon Williams' attention.
Yet even with parity restored, the pace only intensified, the challenges grew all the more ferocious, the contest only became more absorbing, all the way through a testy end to the first-half then during a breathless start to the second. United tested Sevilla's goal with six shots in the opening 10 minutes – the majority from promising positions – yet for once found Bono in an uncharitable mood.
First Greenwood then Martial – twice – were denied by the Sevilla goalkeeper at close range. Martial could feel particularly hard done by, having created his openings for himself with nimble footwork inside the penalty area. Even when the rebounds fell kindly, Rashford and Fernandes' follow-ups were blocked by flying bodies. It was supreme last-ditch defending, yet these would be the moments that United would regret.
It was near impossible to maintain such intensity and, as Sevilla gradually reasserted themselves, they edged closer to establishing a lead. It came through a survivor of Sevilla's 2006 and 2007 triumphs in Jesus Navas – a former Manchester City player, no less – who crossed for De Jong. Despite his struggles in front of goal this season, he neatly sidestepped Lindelof's marking and poked past David de Gea from a total of three yards.
The United substitutes – all at that point still unused – attempted to rally their team-mates but even with a significant stretch remaining, they looked beaten. Those missed chances earlier in the half were already weighing on their shoulders, the avoidable mistakes which led to both goals too. United will come again in the new campaign, but they and Solskjaer have much still to learn.
Source: Read Full Article