Man City vs Liverpool would have commanded our attention. Now it is a sad reminder of what we're missing
This was supposed to be the one. The two biggest sides in the country battling it out for one last time this season. The spoils just about settled but the bragging rights still up for grabs.
It would have received the full bells and whistles treatment. The week-long build-up as per every match of this stature: Second against first, last years champions against this year's champions-elect. These are the ones we go giddy for, especially off the back of an international break.
Liverpool's lead at the top – 25 points at the time of the league's Covid-19 shutdown – meant Sunday's scheduled fixture at the Etihad had lost the context it did at the start of the season. September's hope of a "title-decider" was downgraded to a potential "title confirmer" by January in the game's collective consciousness.
Download the new Independent Premium app
Sharing the full story, not just the headlines
But at the beginning of March there was even the prospect of Liverpool securing that elusive Premier League title before this encounter. City's form had dropped to an extent that even Liverpool's The Twitter high-jinxers were giddy. A guard of honour from the defending champions? You love to see it.
Yet here we are in April ahead of a weekend that now means as little as the weekdays that preceded it. Desperate for anything in these locked-down times, even just to know Sunday will bring something instead of the passing of yet another key marker on the 2019/20 campaign. The players will feel just as empty.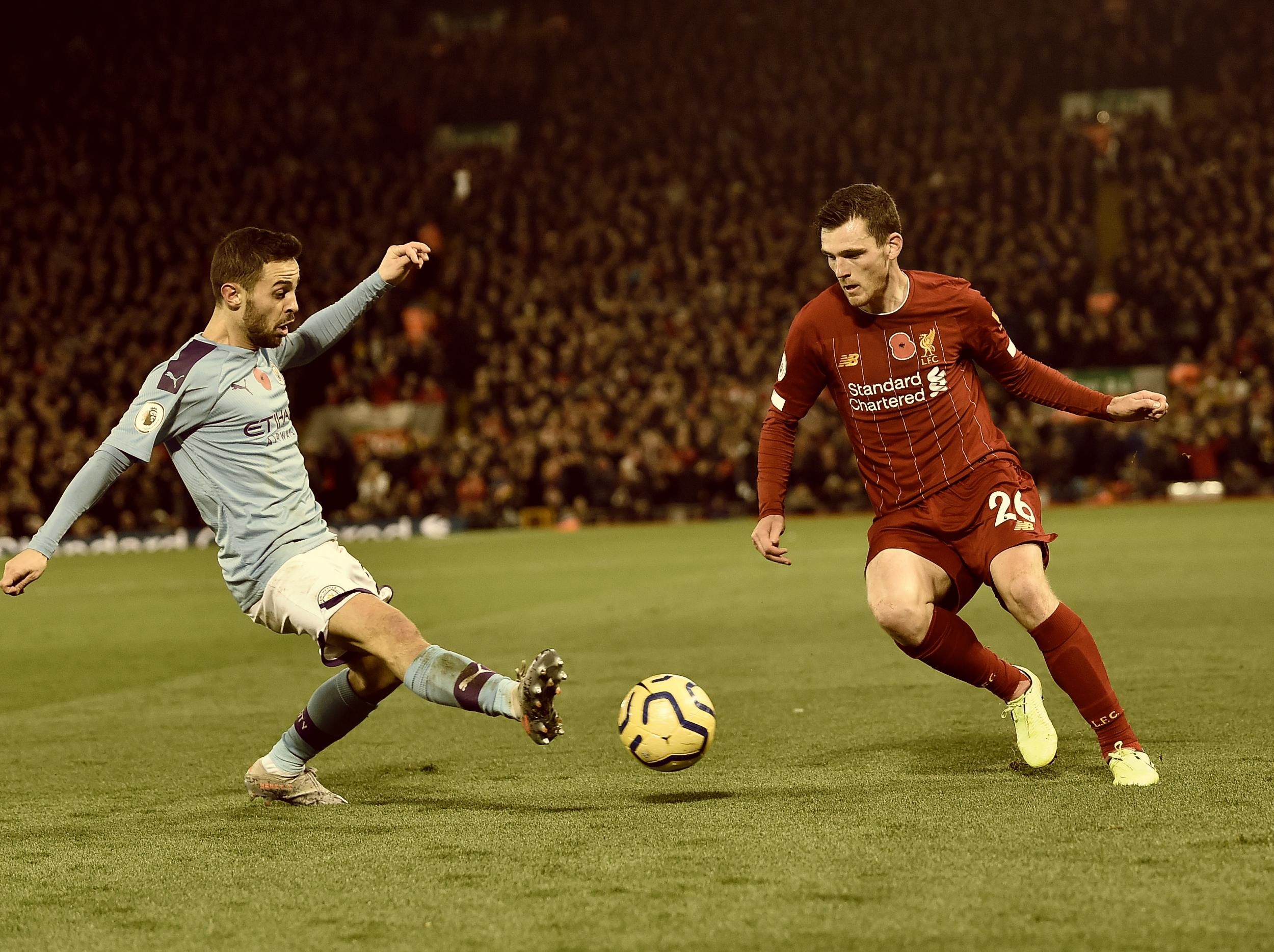 Even without the title up for grabs, this was a chance for City and Pep Guardiola to make a statement of intent for the following season. And for Liverpool, the chance to right the perceived wrong of this fixture last year.
Never mind the comprehensive win at Anfield in November – a 3-1 scoreline achieved with a performance dynamic yet so normalised to suggest a new order had been established. No, Liverpool wanted revenge at the scene of their sole, derailing defeat of the 2018/19 season.
Last January at the Etihad taught Jurgen Klopp and Pep Guardiola a few things about their respective approaches. Klopp realised his Liverpool squad were less effective when reserved, while the latter appreciated that these were one of the few opponents in Europe were possession was not as much of a necessity. For the first time in 97 Premier League games, Guardiola's City had less of the ball. And it resulted in three points.
Yet the numbwea spoken about after were not the 0.8 percent difference in possession but the 11mm between John Stones hooking a ball off the line and Liverpool going 1-0 up. A shot off the post from Sadio Mane rebounded into the six-yard box and found its way heading back to goal when Stones booted it against his own goalkeeper. Mohamed Salah was quick on the scene but the centreback's swing of his right boot was quicker.
The game more or less continued in similar fashion: Liverpool carrying an edge among the freneticism with City just about keeping up. Somehow. Vincent Kompany could have seen red for a lunge on Salah, while Sergio Aguero's opener came against the run of play. Then again, a more physically robust home side were doing exactly what was required.
The usual intensity missing from Liverpool's play was rediscovered in the second-half, notably when a slick move resulted in Firmino's equaliser. But without their usual stamina, perhaps because of the festive program, Leroy Sane profited from a lull to settle the tie with 18 minutes to go. So ended a 20-match unbeaten run for Klopp's side as their lead at the top was cut to four.
Part of what we will miss on Sunday are the rhythms of these sorts of top tier matches. They've moved on from being cagey affairs because of the onus placed on transitions ahead of outright defensive solidity.
This was modern classic of the genre. The Etihad rocked, with even Gary Neville speaking glowingly of a home crowd creating an atmosphere that visibly lifted those in light blue. The jeopardy of each touch, tackle and twist into open space was palpable, even at home.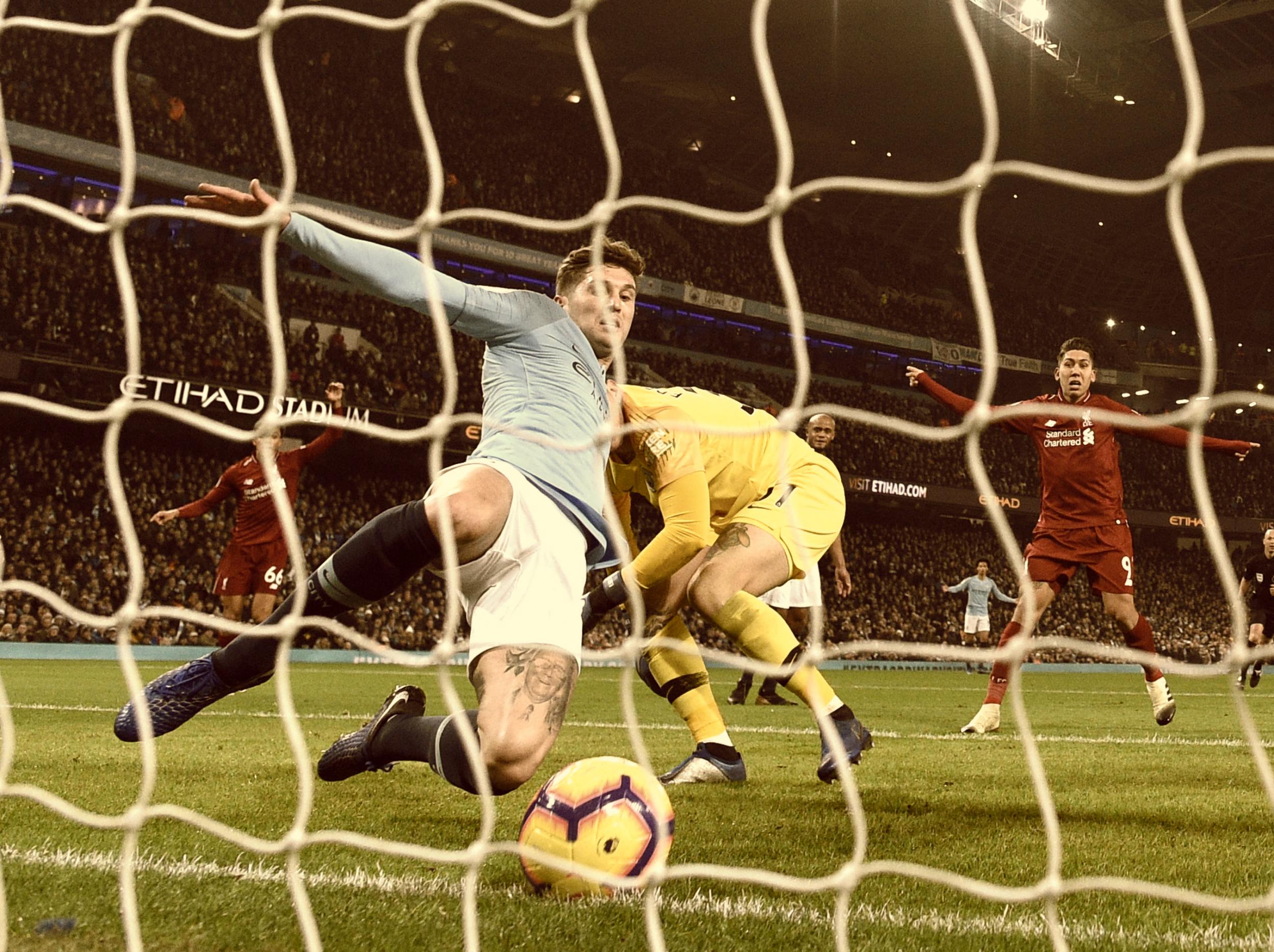 The short-term effect of this result fuelled longer-term hypotheses that really did not come to fruition.
Liverpool did end up spurning that four-point lead allowing City to bag this second consecutive title by a single point. Another shot at a first league title since 1990 up in smoke, another log to fuel the fire of bottle jobs on the red side of the Mersey after the peril of 2013/14. Could they ever sustain a charge for as long as is necessary?
Yet even as points were lost during that run-in, the minutiae of that defeat had been noted in the minds of Klopp and others at Anfield. The numbers like "11mm" and "one point" were repeated over and over for reassurance that a team boasting City's standards of ruthlessness were within reach. The 24 points made up between the sides from the 2017/18 season were achieved in a manner that suggested the red curve was still on its way up. A sixth European Cup in May proved as much.
Though they fine-tuned the smaller details, like quicker restarts and slicker set-piece routines, that rare psychological feeling of walking off the Etihad pitch and feeling robbed was harnessed beyond that campaign's disappointment and into everything great they have achieved in this one.
Watford may have ruined their shot at an unbeaten season this time but that nugget was the only disappointment from Vicarage Road. For 28 of those 44 unbeaten games had propelled them to this dominant position at the summit. There was no letting up this time.
It is why this hiatus leaves Liverpool fans on edge beyond finally being able to call that Premier League trophy their own. Sunday's trip would have provided neat Etihad bookends of two very similar XIs now in very different circumstances.
But for now, there will be no closure. No satisfaction of retribution, cackling at a guard of honour from the ones in possession or to win it "at theirs". City, too, are without their final chance to influence matters, even only for a delay.
For the rest who care not for their battles, there will be no headline act on what was supposed to be a Super Sunday.
These used to be the weekends that robbed us of the monotony of the working week and fueled us to get by the one to come. Even with our allegiances elsewhere, this match would have commanded our attention, and though we might have parted with it reluctantly, within those 90 minutes our pretentions will have been checked at kick-off, giving ourselves willingly to the tendrils of a Premier League beast we now miss.
Instead, yet another weekend will slip by as the anguished wait for Liverpool and football goes on.
Source: Read Full Article