Vinicius Junior exposes Liverpool errors to put Real Madrid in control of Champions League quarter-final
Vinicius Junior celebrates for Real Madrid against Liverpool
A 3-1 victory against Liverpool orchestrated by Toni Kroos and ignited by the verve of Vinicius Junior placed Real Madrid in pole position to progress to the Champions League semi-finals.
The venue was an empty training ground, world-class defenders were reduced to spectators, and neither side sit at their domestic summit, but with a combined 19 European Cups between them, this fixture was unmissable.
It was designed by Kroos, electrified by Vinicius Jr and largely shaped by Liverpool's catalogue of mistakes, but Mohamed Salah offered the tie some hope with an away goal.
Real owned the first half, their majesty making a mockery of fearful markers and the opposition's gameplan.
Liverpool's selection – the inclusion of Diogo Jota and Naby Keita – smelt of courage: the intention to suffocate their opponents with energy, high-pressing and rapid transitions.
READ MORE
Brave Carl Frampton bows out with brilliant legacy after cruel defeat by Jamel Herring
Danger man Diogo Jota is the key to Liverpool's top-four hopes
England Euro 2020 squad: Who's on the bus, who's in contention, who could miss out?
Criticism of Real Madrid this season has circled around their tendency to be one-paced and uncomfortable when pressured, and the theory was the speed and decisive edge of the forward and progressive play of the Guinean midfielder would punish that.
The reality was a world apart. Jota, chosen ahead of Roberto Firmino, did not match the Brazilian's excellence at forcing opponents into the pressing trap, closing spaces, sniffing the opportunity to thieve possession.
Independent Football Newsletter
Get the latest football headlines direct to your inbox twice a week
Read our privacy notice
Independent Football Newsletter
Get the latest football headlines direct to your inbox twice a week
Read our privacy notice
He did not impede Kroos for Real's opener. The midfielder received possession halfway inside his own half, and under zero pressure, delivered a stellar pass over Liverpool's defence towards Vinicius Junior.
The 20-year-old controlled it well with his shoulder, dissecting Nathaniel Phillips and Trent Alexander-Arnold, drove his finish past Alisson.
Marco Asensio celebrates scoring against Liverpool
It was all too easy from Real and ridiculously awful from Liverpool.
By that point, Vinicius Junior already had the visitors on toast but the Spaniards elevated their toying with them.
Liverpool were making unforced errors all over the pitch, anaemic when they got on the ball and atrocious when defending against it. Chief among their errors was to play a high line with no desire to press the man in possession.
When the man in possession is Kroos, you're rolling out the welcome mat for him to decorate the match and take it away from you.
The 31-year-old happily obliged. Again, gifted time and space, he lofted a pass down the inside left towards Vinicius Junior from near the halfway line.
Alexander-Arnold arrived before the attacker, but headed the ball across the face of the danger area, straight to Marco Asensio. Alisson half-thwarted him, but the Spain international followed up to make it 2-0.
As Real sprayed it around with panache, Liverpool were panicking and creating defensive issues for themselves.
Kabak erred with a backpass, Alisson saved from Asensio and the defending Premier League champions were fortunate the scoreline hadn't ballooned.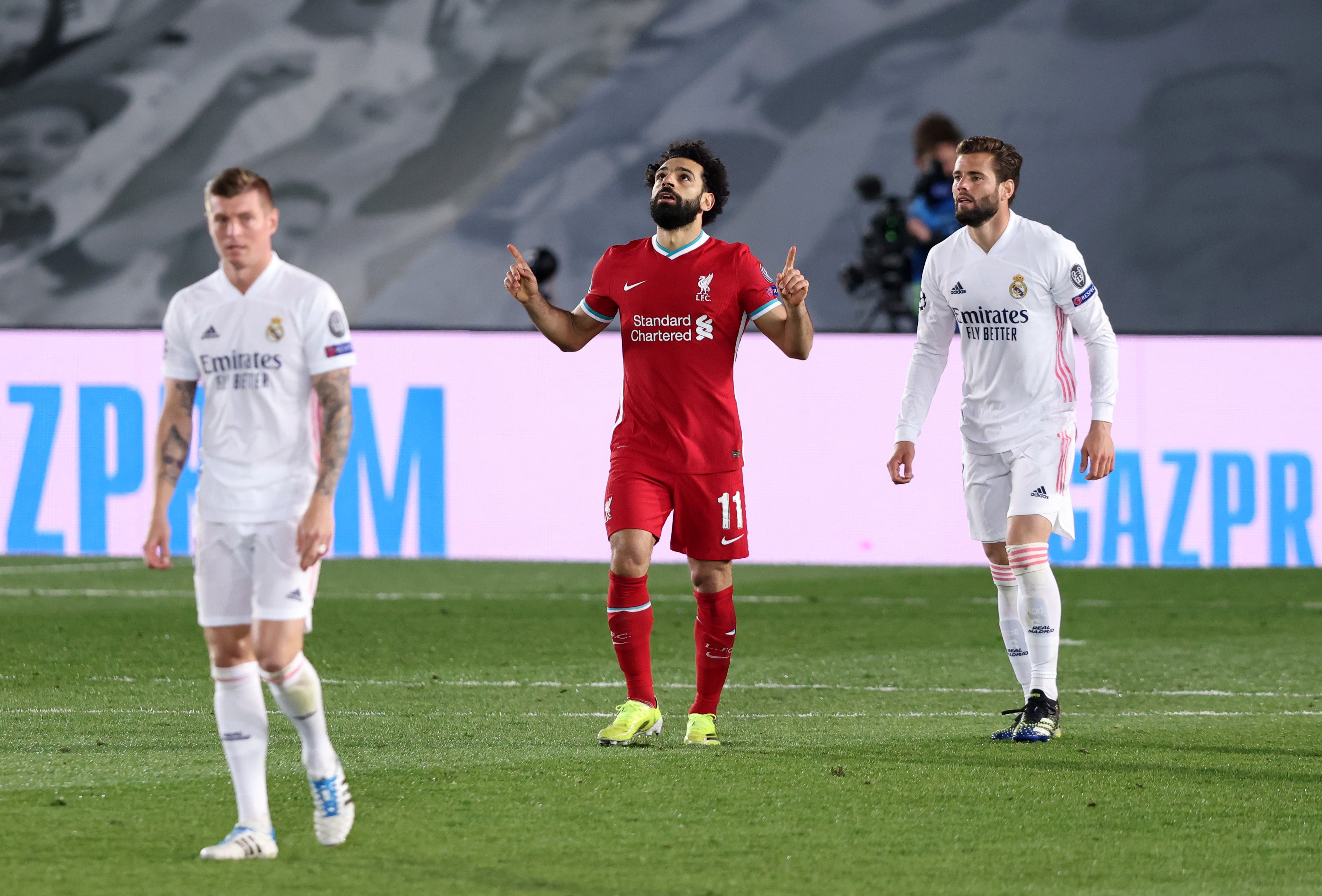 Mohamed Salah celebrates his goal against Real Madrid
The only mention of Keita, bar from the reference of his spot in the starting XI, is that Klopp hooked him on 42 minutes. It was a display of nothingness.
Thiago replaced him to compose Liverpool's midfield and help them gain some control in the fixture.
The Merseysiders actually showed an attacking pulse at the start of the second half and were rewarded for it.
A driving run from Gini Wijnaldum ended with a pass to Jota just outside the area. His shot was snuffed by Luka Modric, but the ball broke kindly for Salah.
And the Egyptian got the better of Thibaut Courtois from close range.
The game opened up, end to end, with Liverpool desperate to up their offensive ante, which led to both opportunities of their own, though their defence was shredded on the counter.
Ferland Mendy made a vital interception to deny Sadio Mane, while Alexander-Arnold stopped Vinicius Junior in a break that Real seemed destined to score from.
Their third did quickly materialise from the resulting corner though. Liverpool were static as Modric supplied a square pass to Vinicius Junior, around 15 yards out.
His first-time hit went through the legs of Phillips, before permeating Alisson's hands.
Liverpool's passiveness was picked apart, with Real almost pausing to pick the perfect ball and finish.
And so, the clash ended with the same scoreline as the 2018 Champions League final between the teams in Kiev. This time, however, Liverpool were their own villains.
Source: Read Full Article